Microsoft Works Version Features
This document lists brief descriptions of current and older Microsoft Works® software, along with a brief list of features and notes. It's very much a work in progress, as we slowly discover information about old Works versions. While you may find older versions of software in many places, links to the old/used software sales pages of EMS Professional Software, this page's sponsor, are provided for your convenience. EMS is not affiliated with Microsoft or any other vendor. Version information on other Microsoft Products. Version information for software from other vendors.
---
---

IBM WORKS, VERSION 1.0: 070-099V100
---
Works 2.0x for DOS (buy it)
WORKS 2.00, 078-299V200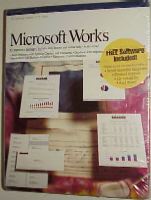 System Requirements: DOS 2.0 or later, 512K RAM, two 360K disk drives or one 720K disk drive or a hard disk drive.
© 1991.
Works with Lotus 1-2-3 1A and 2.x, Excela nd MS Multiplan spreadsheets; MS Word, WordPerfect (DCA), DisplayWrite (DCA), and other popular word processors through built-in conversion to/from DCA, RTF, and ASCII; dBASE and other databases through ASCII.
---
Works 2.0 (for Windows?) Buy it
Version 2.0 720K disk is labeled 07275 © 1987 - 1989
---
Works 2.0 for Mac (buy it)
MS Part numbers:
WORKS 2.00 AE SINGLE USR: 070-396V200
---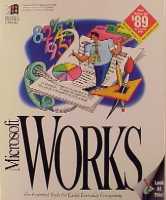 MS Part numbers:
021-550V160
WIN/WORKS 3.00 (3H) BNDL: 070-951V300
Works 3.0 for Windows Disk 1 Disk Assy 070-051-179, © 1987 - 1993
---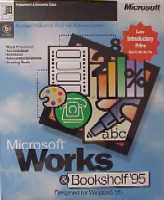 WORKS FOR WINDOWS'95 BKSHLF (CDROM): 070-056V400
Works for Windows 95 = Works 4.0
---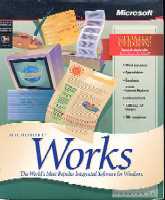 ---
Works 6.0 for Windows and Works Suite 2001 (buy it)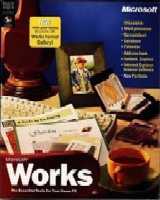 MS Part numbers:
WORKS 6.0 WIN32 ENGLISH NA CD: 070-01637
Works Suite adds money management, research and reference, trip planning and street mapping, cards, newletters and electronic greetings, photo editing, Word 2000, sharing data with cell phones and WinCE/Palm devices.
---
Works 2000 (buy it)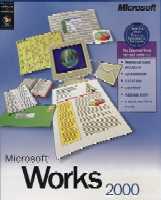 ---
Works Suite 2001
6 CD set includes Works 6.0, Word 2000 SR1, Works 6.0 clipart, Money 2001 standard, Picture It Publishing 2001, Encarta Encyclopedia 2001 standard, and Streets & Trips 2001.
---
Works 2002 for Windows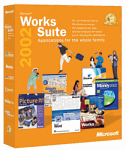 MS Part numbers:
B11-00544 (unverified)
Includes full version of Microsoft Word 2002, Microsoft Streets & Trips 2002, MS Picture It! Photo software, MS Encarta Encyclopedia 2002, Microsoft Money 2002 Standard, and Microsoft Works Suite.
---
All terms on this page are trademarks of Microsoft Corporation or their respective holders.
---
Send suggestions/corrections to info@emsps.com