Old Adobe® Software Features
This document lists brief descriptions of current and older Adobe software, along with notes and a brief list of features. While you may find older versions of development tools in many places, links to the old/used programming tools sales pages of EMS Professional Software, this page's sponsor, are provided for your convenience. EMS is not affiliated with Adobe or any other vendor. All terms on this page are trademarks of Adobe or other companies.
---
Acrobat 1.0 (buy it)
Reader, 50 user license, 3.5"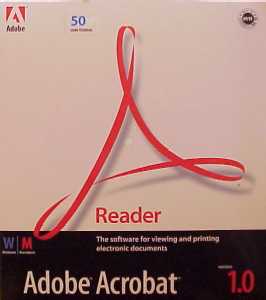 © 1993

Macintosh® System Requirements:


Macintosh Plus, SE, Classic®, LC, II, PowerBook, Centris, or Quadra (II, PowerBook, Centris or Quadra recommended)
Macintosh system software version 6.0.5 or greater (version 7 or greater recommended)
2 MB of application RAM (4 MB recommended)
800K or Apple® SuperDrive floppy disk drive

Windows System Requirements:
386- or 486- based personal computer (486 recommended)
Microsoft® Windows 3.1
4 MB of RAM (8 MB recommended)
VGA, Super VGA or higher resolution display adapter supported by Windows 3.1
1.44 MB 3.5" floppy disk drive

Package Includes:
Acrobat Reader Software
On-line user guide and tour
Adobe Type Manager software
Multiple master technology for font substitution
14 Adobe Type 1 fonts
Adobe Type Reunion font menu software (Macintosh version only)
Sealed retail box; Part # 0399 1952; Product # 0303 1000; Serial # ARW100R3100999-999
---
Acrobat Exchange 1.0 for Macintosh (buy it)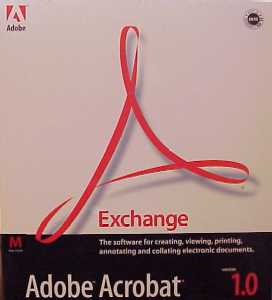 © 1993

Macintosh System Requirements:


Macintosh Plus, SE, Classic®, LC, II, PowerBook, Centris, or Quadra (II, PowerBook, Centris or Quadra recommended)
Macintosh system software version 6.0.5 or greater (version 7 or greater recommended)
2 MB of application RAM (4 MB recommended)
800K or Apple® SuperDrive floppy disk drive

Windows System Requirements:
386- or 486- based personal computer (486 recommended)
Microsoft® Windows 3.1
4 MB of RAM (8 MB recommended)
VGA, Super VGA or higher resolution display adapter supported by Windows 3.1
1.44 MB 3.5" floppy disk drive

Package Includes:
Acrobat Exchange software
PDF Writer software
On-line user guide and tour
Adobe Type Manager software
Multiple master technology for font substitution
14 Adobe Type 1 fonts
Adobe Type Reunion font menu software (Macintosh version only)
Sealed retail box; Part # 0199 6090; Product # 0102 1000; Serial # MVW100R3109999
---
Acrobat 2.0 (buy it)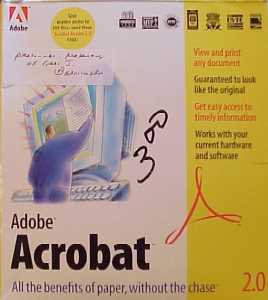 © 1994

Macintosh System Requirements:


Macintosh computer with 68020 or greater processor

Apple ® System Software version 7.0 or greater
2 MB of application RAM
Apple SuperDrive (HD) floppy disk drive

Windows System Requirements:
386- or 486-based personal computer (486 recommended)
Microsoft ® Windows 3.1 or greater
4 MB of RAM
1.44 MB 3.5" floppy disk drive

Package Includes:
Envelope (Part # 0397 0042 8.94) containing three 3.5" high-density diskettes; Adobe Acrobat Reader Read Me disk, Acrobat Reader 2.0 for Mac (Part # 0197 0030 8.94) and Acrobat Reader 2.0 for PC (Part # 0297 0030 8.94)
Adobe Acrobat Support card; Part # 0399 1865 5/93
Acrobat Exchange 2.0 Getting Started; 41 pages; Serial # WVW200R3109999-999; Part # 0399 2452 9/94
Acrobat CD Sampler; Part # 0397 0009 8/94
Registration card
Envelope (Part # 0297 0038 8.94) containing five 3.5" high density diskettes; Acrobat Exchange 2.0 disks 1-4 and ATM; Part Numbers 0297 0019 through 0297 0023 8.94
Retail Box; Serial # WVW200R3199999; Product # 0202 2000
---
Acrobat Pro 2.1 (buy it)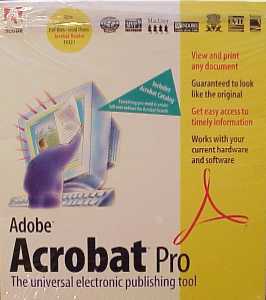 © 1995

Macintosh System Requirements:
Macintosh 68020-68040:


2 MB of application RAM for Acrobat Exchange or Acrobat Reader; 6 MB of application RAM for Acrobat Distiller
Power Macintosh:
4.5 MB of application RAM for Acrobat Exchange or Acrobat Reader; 8 MB of application RAM for Acrobat Distiller
Apple ® System Software version 7.0 or later
Apple SuperDrive (HD) floppy disk drive

Windows System Requirements:
386, 486 or Pentium ® processor-based personal computer
Microsoft ® Windows 3.1, Windows 95, Windows NT 3.5 or later
4 MB of RAM for Acrobat Exchange and Acrobat Reader; 8 MB of RAM for Acrobat Distiller
1.44 MB 3.5" floppy disk drive

Package Includes:
Registration Card USA and Canada Only
Acrobat Catalog, Version 2.1 Getting Started Guide; Serial # AOW210R3108999-999; Part # 0397 0761 (7/95)
Sealed envelope (Part # 0297 0039 8.94) containing one 3.5" diskette
Acrobat Exchange and Acrobat Distiller, Version 2.1 Getting Started; Part # 0397 0762 7/95
Acrobat CD Sampler version 2.1; Part # 0397 0961 8/95
Envelope (Part # 0297 1079 7.95) containing six 3.5" high density diskettes for Acrobat Exchange version 2.1 disks 1-4, ATM and QuickTime for Windows v2.04
Envelope (Part # 0297 1080 7.95) containing three 3.5" high density diskettes for Acrobat Distiller version 2.1 (Part Numbers 0297 1084 through 0297 1086 7.95)
---
Acrobat 3.0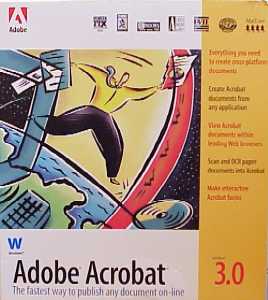 © 1996
System Requirements:


Macintosh:
4MB of RAM (6MB for Power Macintosh) available to Acrobat Exchange
16MB of RAM available to Acrobat Capture plug-in
6MB of RAM (8MB for Power Mac) available to distiller
6MB of RAM (8MB for Power Mac) available to Acrobat Catalog
3.5MB of RAM (5MB for Power Mac) available to Acrobat Reader
Apple System Software version 7.0 or later
CD-ROM drive (1.44MB floppy disks available on request)
Windows:
386, 486, or Pentium processor based personal computer
Microsoft Windows 3.1, Windows 95, or Windows NT 3.51 or later
8MB of RAM (16MB for Windows NT) for Acrobat Exchange
16MB of RAM for Acrobat Capture plug-in
16MB of RAM (24MB for Windows NT) for Distiller
8MB of RAM (16MB for Windows NT) for Acrobat Catalog
8MB of RAM (16MB for Windows NT) for Acrobat Reader
CD-ROM drive

Contents:
Adobe Acrobat 3.0 Getting Started; 30 pages; Part # 0397 1930
Registration card; Part # 0397 2160 8/96
Technical support guide; Part # 0397 0634 6/96
Adobe Acrobat Reader CD-ROM; Part # 0397 2159
Adobe Acrobat 3.0 CD-ROM; Part # 0397 1919 9/96; Serial # KWW300R7106999-999
Retail box; Part # 0297 2991; Serial # KWW300R7109999
---
Acrobat 4.0 for Macintosh (buy it)
Education Version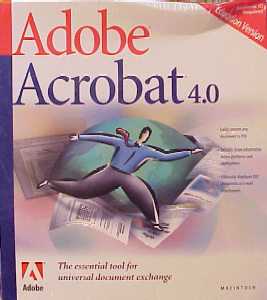 © 1999
System Requirements:
Power Macintosh
Apple System Software version 7.5.3 or later for Acrobat
6 MB of RAM for Acrobat (12 MB recommended)
16 MB of RAM for Distiller or the Paper Capture plug-in (32 MB recommended)
60 MB of available hard-disk space
CD-ROM drive
Package Includes:
All software and manuals in sealed retail box; Part # 9001 4454 2/99; Product # 12001197
---
Acrobat 4.0 for Windows (buy it)
Education Version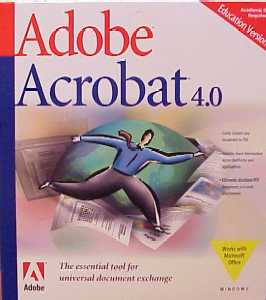 © 1999
System Requirements:
i486 or Pentium processor-based personal computer (Pentium recommended)
Microsoft Windows 95, Windows 98 or Windows NT 4.0 with Service Pack 3.0 or later
16 MB of RAM for Acrobat on Windows 95 and Windows 98; 24 MB of RAM for Acrobat on Windows NT 4.0 (32 MB recommended)
32 MB of RAM for the Paper Capture plug-in (64 MB recommended)
75 MB of available hard disk space
CD-ROM drive
Package Includes:
Adobe Acrobat 4.0 Getting Started; 15 pages; Part # 90018677 10/99
Registration card; Part # 900161737/99
CustomerFirst Technical Support guide; Part # 90017200
Sealed envelope (Part # 90016394 2/99) containing software on CD-ROM; Envelope has the Adobe Systems Incorporated End-User License Agreement printed on
Retail box; Part # 90012085 4/99; Product # 22001202
---
Acrobat Capture 1.0.1 for Windows (buy it)
NFR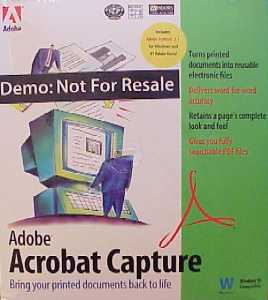 © 1995

System Requirements:


486 based personal computer
Microsoft® Windows 3.1 or later, or Windows 95
15 MB hard-disk space
16 MB of RAM
25 MB swap space
Color monitor with VGA or greater resolution
1.44 MB 3.5" floppy disk drive

Package Includes:
Adobe Acrobat Capture
Adobe Acrobat Capture Reviewer
Adobe Acrobat Exchange 2.1 for Windows
Adobe Type Manager
Multiple master font technology
41 Adobe Type 1 fonts
Printed and on-line user guides
Unopened Retail Box; Product ID 0202-2055; P/N # 0397-1593
---
Dimensions (buy it)
Macintosh Version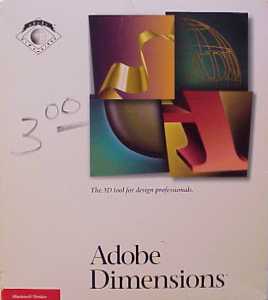 © 1992

System Requirements:


Macintosh computer with 68020 or greater processor
Apple® System Software version 6.05 or greater
Hard disk
Minimum 2 MB of application RAM
To print files: Adobe Illustrator, Aldus FreeHand or other file-compatible drawing program

Recommendations:
68881 coprocessor to markedly enhance system performance
Color monitor
68030 or greater processor

Package Includes:
Three Adobe Dimensions Macintosh Version 1.0 3.5" 720K diskettes; Serial # DAW100R3123999-999; Part Numbers 0199 4842 11/92, 0199 4841 11/92, and 0199 4840 11/92
Adobe Dimensions Quick Reference Card; Part # 0199 4738 10/92
Adobe Dimensions End User License Agreement; Part # 0199 4736 11/92
Adobe Dimensions User Guide; 125 pages; Part # 0199 4739 11/92
Registration Card; Part # 0199 4737
Technical support card; Part # 0399-1416R4 3.92
Retail box; Part # 0199 4740 11/92; Product # 0152 1000
---
FrameMaker 5.5 (buy it)

© 1997

System Requirements:


Any 80486 or greater processor
16 MB of RAM (32 MB recommended)
15-75 MB available hard disk space (60 MB recommended)
Microsoft® Windows 95 or Windows NT 4.0
VGA monitor
CD-ROM drive
Adobe PostScript or PCL printer (Adobe PostScript printer recommended)
Adobe Type Manager and TrueType supported

Package Includes:
CD-ROM containing:
-Adobe FrameMaker 5.5 for Windows 95/ Windows NT 4.0
-International dictionaries
-Adobe Type Manager rasterizer
Adobe Acrobat® 3.0
Type On Call® on CD-ROM with 220 free fonts, unlocked upon registration
User Guide
---
GoLive 5.0 (buy it)
Upgrade, CD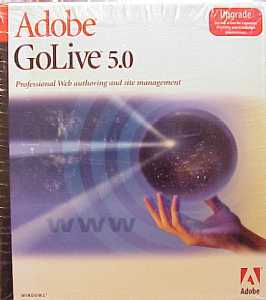 © 2000

System Requirements:


Pentium 200 MHz (or faster) or compatible processor
Microsoft Windows 98, Windows NT 4.0 with service pack 3 or Windows 2000
48 MB of available RAM for Windows 98; 64 MB of available RAM for Windows NT 4.0 or Windows 2000
60 MB of available hard disk space
CD-ROM drive

Contents:
Adobe GoLive 5.0 User Guide; 462 pages; Part # 90022859 5/00
Quick Reference Card; Part # 90022852 (06/00W)
"Your ready-to-use technical support options"; Part # 90019254 5/00
Registration card; Part # 90019255 4/00
Adobe GoLive 5.0 CD-ROM; Serial # GJW500U7103999-999; Part # 90023726 5/00
Retail box; Part # 90023555 5/00; Product # 23200144; Label PN 90023099
---
Illustrator (buy it)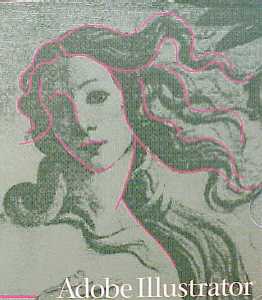 © 1988

System Requirements:


Macintosh® Plus with either a hard drive or an 800K external drive
Macintosh SE with either a hard drive or two 800K drives
Macintosh II with either a hard drive or two 800K drives
Apple® System software version 4.2 or later

Contents:
Adobe Illustrator 88 Tutorial; Part # Tutorial ACO6005 Rev. 2
Addendum to Adobe Illustrator 88, Versions 1.8.3 and later; Part # 0199 1683
End User License Agreement; Part # 0399 1314 10.89
Adobe Illustrator 88 Color Guide; Part # Color Guide ACO6006 Rev. 2
Envelope (Part # 0399 1308 10.89) containing two 3.5" 720K for Illustrator 88 Tutorial and Utilities, and Program; Part Numbers ACO6009 Rev. 2 and ACO6010 Rev. 2
Adobe Illustrator 88 User Guide; Serial # AAO69999V2.2; Part # User Guide ACO6004 Rev. 2
Retail box; Serial # AAO69999V2.2
Inventory number ADOBE040128 contains all software and manuals but no video tape tutorial
Inventory number ADOBE011222 includes the video tape tutorial
---
Illustrator 3.2 for Macintosh

© 1990

Contents:
Adobe Illustrator End User License Agreement; Part # 0199 2173 8/90
Adobe Illustrator Color Guide; 79 pages; Part # 0199 2047 rev. 1 (11/90)
Adobe Illustrator Tutorial; 187 pages; Part # 0199 2046 rev1 (11/90)
Adobe Illustrator Macintosh Version 3.2 Program Disk on 3.5" 720K diskette; Part # 0199 3292 9/91
Adobe Illustrator Macintosh Version 3.2 Tutorial and Utilities Disk on 3.5" 720K diskette; Part # 0199 3293 9/91
Adobe Illustrator Macintosh Version 3.2 Gallery Disk on 3.5" 720K diskette; Part # 0199 2051 6/90
Adobe Type Manager on 3.5" 720K diskette; Part # 0199 1658; Serial # AAW3201009999
Retail box in perfect condition; Part # 0199 2042 6/90
---
Illustrator 5.5 for Macintosh (buy it)
Educational Edition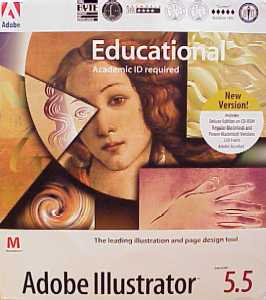 © 1994

System Requirements:


Macintosh with a 68020 or greater processor, including Power Macintosh
Apple® System Software version 6.0.7 or greater, including version 7
3.1 MB of application RAM
Hard drive

Recommendations:
Macintosh with a 68030 or greater processor, or Power Macintosh
Apple System Software version 7.0 or greater
5 MB of application RAM
Color monitor
CD-ROM drive for deluxe edition

Package Includes:
Adobe Illustrator v5.5 User Guide; 229 pages; Part # 0199 7634 (6/94)
Adobe Illustrator v5.5 Beyond the Basics; 45 pages; Part # 0199 7637 (5/94)
Adobe Illustrator v5.5 Tutorial; 103 pages; Part # 0199 7635 (5/94)
Seven 3.5" high density diskettes for Adobe Illustrator v5.5; Part Numbers 0199 7626 (5/94) through 0199 7632 (5/94)
Adobe Illustrator v5.5 Deluxe Edition on CD-ROM; Part # 0199 7625 5/94; sticker on cardboard CD sleeve reading "S-A CD AI V5.5 0199-7970"
Retail box; Part # 0199 7622 5/94; Serial # AAW550R1199999
---
PageMaker 6.0 for Windows (buy it)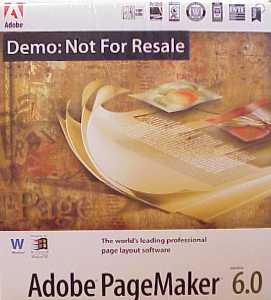 © 1995

System Requirements:
Windows 95:


Microsoft Windows 95
Default virtual memory settings
8 MB of RAM
Windows 3.1:
Windows 3.1 or later, running in enhanced mode
Default virtual memory settings
DOS 5.0 or later
10 MB of RAM

Other Requirements:
Intel486 processor
24 MB of free hard drive space for installation (plus extra space for virtual memory)
VGA display card
High-density disk drive
Mouse or other pointing device

Recommendations:
Pentium or greater processor
Microsoft Windows 95
16 MB or more of RAM
40 MB or more of free hard drive space for installation
High resolution display card
CD-ROM drive

Contents:
Adobe PageMaker software for Windows-compatible computers
Table Editor application
Deluxe CD-ROM
Type On Call CD-ROM with 220 fonts, unlocked upon registration
Sealed retail box; Part # 0297-1363; Product ID # 2750-0005; Serial # 03W601X1109999
---
PageMaker 6.0 for Windows (buy it)
Upgrade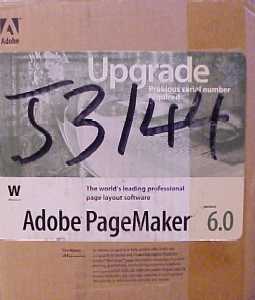 © 1995
System Requirements:
Windows 95:
Microsoft Windows 95
Default virtual-memory settings
8 MB of RAM
Windows 3.1:
Windows 3.1 or later, running in enhanced mode
Default virtual-memory settings
DOS 5.0 or later
10 MB of RAM
Other Requirements:
Intel486 processor
24 MB of free hard drive space for installation (plus extra space for virtual memory)
VGA display card
High-density disk drive
Mouse or other pointing device
Recommendations:
Pentium or greater processor
Microsoft Windows 95
16 MB or more of RAM
40 MB or more of free hard drive space for installation
High-resolution display card
CD-ROM drive
Contents:
Type On Call v4.0 CD-ROM; Part # 0397 0733 5/95
Technical support card; Part # 0297 1608 8/95
Adobe PageMaker v6.0 Getting Started; 22 pages; Part # 0297 1054 10/95
Adobe PageMaker Quick Reference Card; Part # 0297 1374 10/95
Print Publishing Guide; 79 pages; Part # 0397 0719 08/95
Adobe PageMaker v6.0 User Guide; 443 pages; Part # 0397 0720 08/95
Sixteen 3.5 " diskettes in 2 sealed envelopes; Serial # 03-4001-20339999
---
PhotoShop 2.5 for Windows




© 1993
Contents:
Registration card; Part # 0399 1783 2/93
Technical support card; Part # 0399 1800 5/93
Quick Reference Card; Part # 0299 6214 3/93
Adobe PhotoShop Beyond the Basics; 37 pages; Part # 0299 6216 1/93
Adobe PhotoShop Tutorial; 97 pages; Part # 0299 6215 1/93
Adobe PhotoShop User Guide; 191 pages; Part # 0299 6217 1/93
Adobe PhotoShop Getting Started; 22 pages; Part # 0299 7232 10/93
Four 3.5" high density diskettes for Adobe PhotoShop 2.5 Installer (Part Numbers 0299 6196, 0299 6198, 0299 6205, and 0299 6203 1/93) and one 3.5" high density diskette for Adobe Type Manager (Part # 0299 3779 7/90)
Retail box; Part # 0399 1784 2/93; Product ID # 0210 1017; Serial # PWW251B3119999
---
PhotoShop 3.0 for Windows (buy it)

© 1994

System Requirements:


i386, i486 or Pentium processor
DOS 5.0 or greater
Microsoft Windows 3.1 or Windows NT 3.5
10 MB of RAM (16 MB for Windows NT)
Hard disk with at least 20 MB free space
256-color display adapter

Recommendations:
Pentium processor
DOS 6.0 or greater
At least 16 MB of RAM (32 MB for Windows NT)
24-bit color display adapter
Sound card and CD-ROM drive

Contents:
Seven 3.5" high density diskettes for Adobe Publishing Pack (Part Numbers: 0299 7035, 0299 7037, 0299 7039, 0299 7041, 0299 7043, 0299 7045, and 0299 7047 8/93) all in envelope with Typeface End User License Agreement printed on back (Part # 0399 1998 6.93)
Adobe PhotoShop 3.0 Tutorial; 150 pages; Part # 0299 7847 8/94
Adobe PhotoShop 3.0 User Guide; 265 pages; Part # 0299 7846 10/94
Adobe PhotoShop 3.0 Beyond the Basics; 25 pages; Part # 0299 7848 10/94
Quick Reference Card; Part # 0299 7850 9/94
Adobe PhotoShop 3.0 Deluxe CD-ROM (Part # 0299 7836 8.94) in envelope with End User License Agreement for 1 Computer printed on back (Part # 0397 0248 10.94)
Adobe PhotoShop 3.0 Getting Started; 22 pages; Part # 0299 7849 10/94
Technical support card; Part # 0297 0825 5/95
Six 3.5" high density diskettes for Adobe Illustrator (Part Numbers: 0299 5116, 0299 5117, 0299 5118, 0299 5119, 0299 5120, and 0299 5121 4/92)
Two 3.5" high density diskettes for Adobe Type Manager (Part Numbers: 0297 0031 and 0297 0032)
One 3.5" 720K diskette for Adobe Type Align; Part # 0299 4253 10.91
Five 3.5" high density diskettes for Adobe PhotoShop v3.0 (Part Numbers: 0299 7838, 0299 7839, 0299 7840, 0299 7841, and 0299 7842 9/94)
One 3.5" high density diskette for Adobe Type Manager PC; Part # 0297 0031
Retail box; Part # 0399 2427 7.94; Serial # PWW300R1139999
---
PhotoShop 4.0 for Macintosh, CD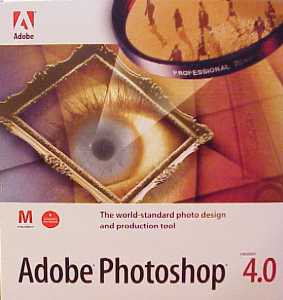 © 1996
Contents:
Adobe PhotoShop v4.0 Getting Started; 22 pages; Part # 9000 5080 10/96
Adobe PhotoShop 4.0 Application CD-ROM; Part # 0197 4916 10/96
Adobe PhotoShop 4.0 Tutorial CD-ROM; Part # 9000 5167 10/96
Both CD-ROM's are in original cardboard sleeve; Part # 0197 4915 10/96
No box
---
PhotoShop 5.5, CD Only

© 1999

Contents:
One CD-ROM for Adobe PhotoShop 5.5; Part # 9001 7380 6/99; Serial # PSW550R7116999-999
CD is in cardboard sleeve; Part # 9001 7382 6/99
---
PhotoShop 6.0 for Mac, Upgrade (buy it)

© 2000

System Requirements:


PowerPC based Macintosh computer
Mac OS software version 8.5, 8.6 or 9.0
64 MB of RAM (with virtual memory on)
125 MB of available hard disk space
Color monitor with 256-color (8-bit) or greater video card
800x600 or greater monitor resolution
CD-ROM drive
Contents:
Adobe PhotoShop 6.0 User Guide; 434 pages; Part # 90024592 8/00
One CD-ROM for Adobe PhotoShop 6.0 Upgrade for Macintosh (Part # 90024701 8/00) in opened, original jewel case (Part # 90024761 8/00)
Retail box; Part # 90024649 8/00; Product # 13101334
---
Plus Pack for Macintosh (buy it)

© 1990

Macintosh System Requirements:


Macintosh Plus, SE, II or Portable
System 6.0.2 or greater
Font/DA Mover 3.8
Any QuickDraw or PostScript output device
For QuickDraw output devices, Adobe Type Manager is required

IBM PC System Requirements:
IBM Personal Computer (PC, XT, AT), Personal System/ 2 or 100% compatible
One 5.25" high density or 3.5" disk drive and a hard disk
640K memory, MS-DOS 3.0 or later
Any software application that supports downloadable typefaces

Contents:
Technical support card; Part # 0399 1416R3 1.91
Registration card; Part # 0399 1198 1/89
Typeface Software End User License Agreement; Part # 0399 1403 7.90
Two 3.5" 720K diskettes for Adobe Plus Pack; Part Numbers 0199 1757 and 0199 1756
Adobe Type Library Quick Reference Guide; 16 pages; Part # 0199 1738 1/90
---
Premiere 5.0 Upgrade (buy it)

© 1998

System Requirements:


Intel Pentium processor
Microsoft Windows 95 or later, or Windows NT 4.0
32 MB of RAM
60 MB of hard disk space for installation (30 MB for application)
256-color video display adapter
CD-ROM drive

Recommendations:
MMX processor or multiprocessor system
64 MB or more of RAM
Large capacity hard disk or disk array
24-bit color display adapter or Truecolor display
Apple QuickTime 3.0 for Windows, Microsoft DirectX Media 5.1, or other video software
Microsoft Video for Windows compatible or QuickTime for Windows compatible video capture card
Sound card

Contents:
Adobe Premiere 5.0 software on CD-ROM
User guide
Quick reference card
Training video
Sealed retail box; Part # 0397 1133; Product # 25500035
---
TypeAlign 1.0.5 for Mac (buy it)

© 1990

System Requirements:


Macintosh Plus, SE, SE 30, II, IIx, IIcx, IIci, Portable
1 MB of memory or more
Hard disk or two 800K floppy drives
System 6.0.2 or above
Adobe Type Manager

Package Includes:
Adobe TypeAlign User Guide; 65 pages; Part # 0199 1801 3.90
Two 3.5" 720K diskettes for Adobe TypeAlign; both with part # 0199 1805 3.90
Technical support card; Part # 0399 1010 11/89
---
Type Manager 1.2 for Mac (buy it)

© 1989

System Requirements:


Compatible with virtually every Macintosh software application
Works with the following computers:
Macintosh Plus
Macintosh SE, SE 30
Macintosh II, IIx, IIcx

Package Includes:
Key Cap Chart; Part # 9.89 0199 1666
End User License Agreement for Adobe Type Manager Software; Part # 0399 1302 9.89
Adobe Type Manager User Guide; 20 pages; Part # 0199 1646 9/89
One 3.5" 720K diskette for Adobe Type Manager; Serial # AT2069999
---
Type Manager 2.0 for Macintosh (buy it)

© 1989

System Requirements:


Compatible with virtually every Macintosh software application
Works with the following computers:
Macintosh Plus
Macintosh SE, SE 30
Macintosh II, IIx, Iicx

Contents:
All software and manuals in sealed retail box; Part # 0199 1645; Product ID # 0133 1006
---
Type Manager 3.0 for Windows (buy it)

© 1994

System Requirements:


Personal computer using an 80286 or greater microprocessor (80386SX or greater recommended)
DOS 3.3 or greater
Microsoft Windows 3.1 or greater
Minimum 2 MB of RAM for Microsoft Windows (4 MB recommended)

Hard disk and one floppy disk drive (1.44 MB 3.5")

Contents:
Registration card; Part # 0399 1995 06.93
ATM & Adobe Type Library User Guide; 16 pages; Part # 0299 7769 6/94
Two 3.5" high density diskettes for Adobe Type Manager v3.0, Program Disk 1 and Font Disk 1; Part Numbers 0299 7806 and 0299 7807
Retail box; Part # 0299 7454 5.94; Product ID # 0233 1036
---
Type Manager Deluxe 4.6 for Macintosh (buy it)

© 2000

System Requirements:


Macintosh with PowerPC processor
Mac OS software version 8.1 or later
16 MB of RAM for ATM Deluxe; 8 MB of RAM for ATR Deluxe
10 MB of available hard disk space for ATM Deluxe; 3 MB for ATR Deluxe
CD-ROM drive

Contents:
Adobe Type Manager Deluxe 4.6 User Guide; 40 pages; Part # 90022820 5/00
Registration card; Part # 9001 9255 4/00
Technical support; Part # 9001 9254 5/00
Adobe Type Library Type Guide; 71 pages; Part # 9001 2778 7/98
Adobe Type Manager Deluxe 4.6 CD-ROM in original jewel case; Part # 9002 0562 5/00; Serial # ATW460R7103999-999
---
TypeSet 1 for Macintosh (buy it)

© 1990
System Requirements:
Macintosh Plus, SE, II or Portable
System 6.0.2 or greater
Font/DA Mover 3.8
Any QuickDraw or PostScript output device
For QuickDraw output devices, Adobe Type Manager is required

Package Includes:
All software and manuals in sealed retail box; Part # 0199 1724; Product # 0120 1000
---
TypeSet 2 for Macintosh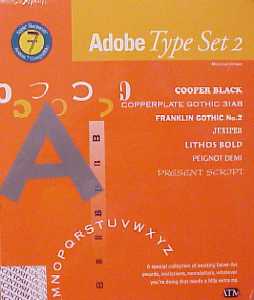 © 1990

System Requirements:
Macintosh Plus, SE, II or Portable System 6.0.2 or greater
Font/ DA Mover 3.8
Any QuickDraw or PostScript output device
For QuickDraw output devices, Adobe Type Manager is required

Contents:
All software and manuals sealed in original retail box; Part # 0199 1725; Product ID # 0120 1001
---
TypeSet 3 for Macintosh (buy it)

© 1990

Macintosh System Requirements:


Macintosh 512KE, Plus, SE, II or Portable
System 6.0.2 or greater
Font/DA Mover 3.8
Any QuickDraw or PostScript output device
For QuickDraw output devices, Adobe Type Manager is required

IBM PC System Requirements:
IBM Personal Computer (PC, XT, AT), Personal System/ 2 or 100% compatible
One 5.25" high density or 3.5" disk drive and a hard disk
640K memory, MS-DOS 3.0 or later
Any software application that supports downloadable typefaces

Contents:
All software and manuals in sealed retail box; Part # 0399 1400 6/90; Product # 0120 1002
---
Windows is a trademark of Microsoft Corporation.

Send suggestions/corrections to info@emsps.com