WAIS-III Testing
This offers a bit of information relating to WAIS-III testing, especially for children considering enrollment in Gifted and Talented programs. Regardless of how you feel about IQ tests, some people who think they are important may use information from them to make decisions about your child's future. While there is a clear statistical correlation between IQ scores and academic success, we're also confident that performance on IQ tests can be improved through preparation.
We offer books, test materials, and preparation materials to help improve scores. Many children enjoy taking the tests, which are designed to be interesting and fun. People often ask the same questions. Here is a start at a Frequently Asked Questions (FAQ) page on IQ testing. To rent or purchase IQ materials, visit our home page.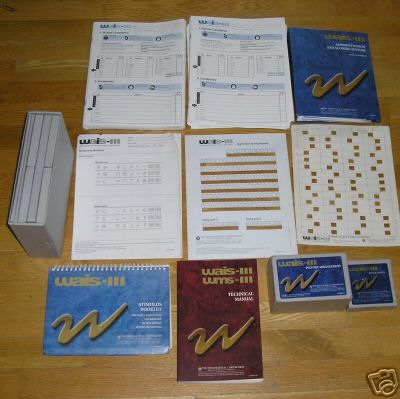 Materials:
Black soft-sided case (optional) with wais-III tag on handle
Administration and Norms Manual, Part # 0158981030
Technical Manual, Part # 0158981049
Stimulus Booklet, Part # 0158981057
Record and Response form booklets, Part # 0154981060
Object Assembly subtest, Part # 0158981138.
Includes
1 - 6-piece man, #0158981146
2 - 7-piece woman's head, #0158981154
3 - 6-piece elephant, #0158981162
4 - 9-piece house, #0158981170
5 - 7-piece butterfly, #0158981189
6 - Object Assembly Layout Shield, #0154981192
7 - slip-case box, #0158981138
Block Design subtest
Picture Arrangement subtest, Part # 0158981111.
Includes 11 picture card sets. Cap, Bake, Opens, Chase, Clean, Hunt, Samuel, Lunch, Choir, Dream, and Shark.
Digit Symbol Scoring Template, Part # 0158981219
Symbol Search Scoring Template, Part # 0158981200
WISC, WPPSI, WAIS and other terms are trademarks Harcourt Assessment and their respective holders. EMS is not associated in any whatsoever with these or any other companies.