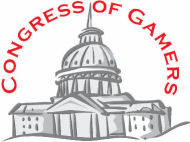 Pre-registration for the 2019 Congress of Gamers Fall Session is open, and is just $20 for the entire weekend, $15 for just Saturday, and $7 for just Sunday. Registration at the door for the entire weekend is $25, $20 for just Saturday, or $10 for just Sunday. Youth (under 16) special rate is $5 per day when accompanying a paying adult. If you pre-register, your badge will be waiting for you at the registration desk. You can also register at the desk outside the lounge starting at 8:30am Saturday and 9:00am Sunday. When traffic slows down, registration will move to the snack bar.
<!input type="hidden" name="on0" value="Register"> Pre-register using PayPal below, or send check made out to Eric Engelmann,
6829 Needwood Road, Derwood, MD 20855. If you are buying multiple badges at once, you will save us about $.30 on each additional badge by sending a single combined payment to info@emsps.com. Include name and city for each badge.