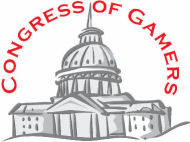 Registration is required for anyone who will participate in the convention, including playing in tournaments or open gaming, buying or selling in the Bring-and-Buy, attending demonstrations, or trading in the No-Ship Math Trade. It is not necessary to register to be a spectator or to purchase from vendors.
Pre-registration for the 2018 Winter Session of the Congress of Gamers is closed. Registration at the door for the entire weekend is $25, $20 for just Saturday, or $10 for just Sunday. Youth (under 16) special rate is $5 per day at the door when accompanying a paying adult. You can register at the door starting at 9am on Saturday and Sunday. When traffic slows down, registration moves to the snack bar.
Bring your own badge holder to the convention if you have one you like!